April 20, 2019, Surrey, a monotonous, middle-class residential suburb of Vancouver, was supposed to be as quiet and peaceful as the other 364 days of the year. At that moment, however, I could see no end to the throngs of people milling about. They were so happy, so crowded, so noisy, that I could hardly move. For a moment, I was at a loss for words.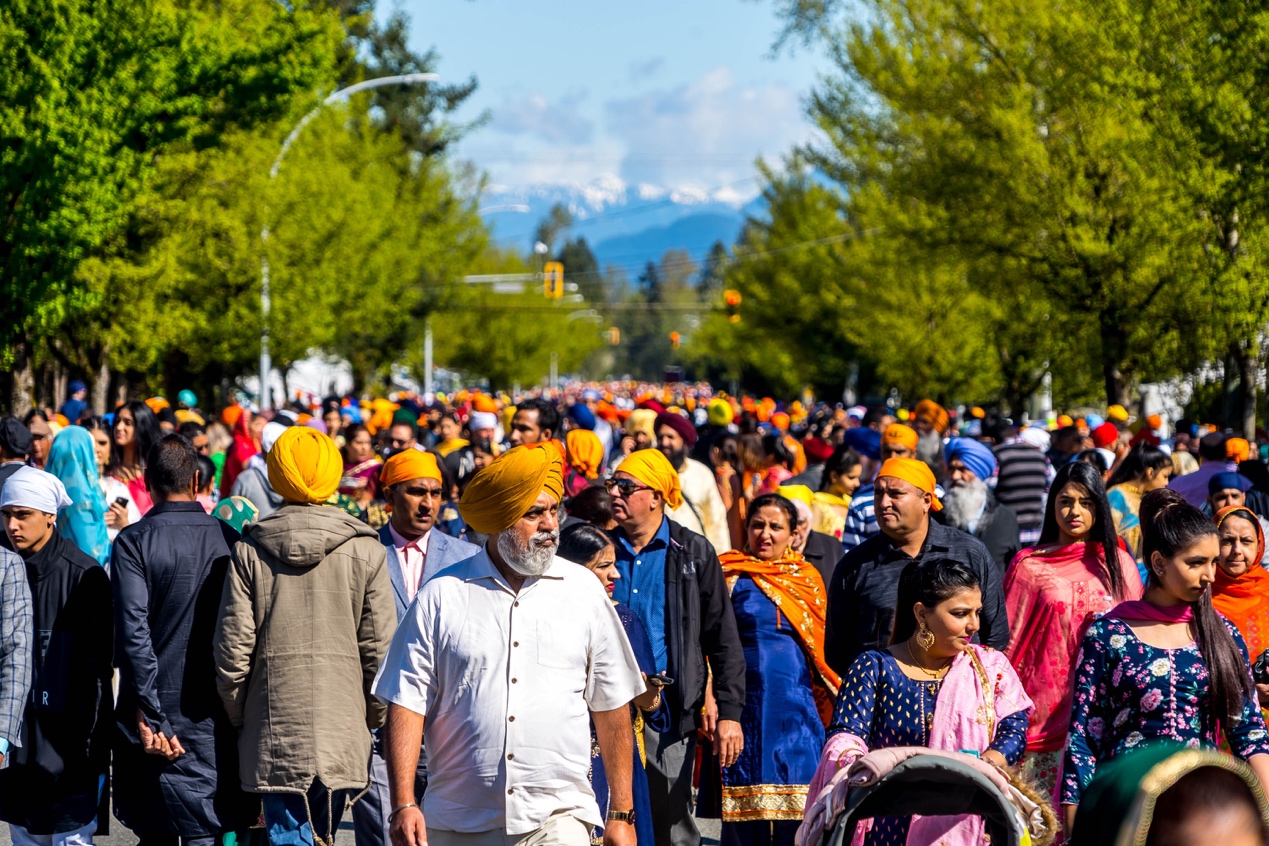 After living in Canada for a few months, I'd grown accustomed to the sparseness of the area and couldn't believe that an event as big as a Chinese temple fair could take place here. According to media reports afterwards, over 500,000 people attended the event, which is the population of a medium-sized city, or more graphically, more than enough to fill six gigantic stadiums with 80,000 seats. The population of Vancouver, which is just over 2 million people, so it's no exaggeration to say that it's a "citywide" turnout.
What makes this event even more incredible is that the organizers and main participants are not white or Chinese, who make up the majority of Vancouver's population, but rather Sikhs, an ethnic group that doesn't have much of a "presence" in the area.
The article was first published in South Review Magazine, Issue 2022.03.14.
The article was first published in Lonely Planet China magazine, Issue 04/2022.

This English version was translated from the Chinese original with DeepL, with the manual correction of some obvious mistranslations. I apologize for any mistakes made by this AI translation tool.
---
The religion of "free food"
The story begins on the other side of the globe in India – Sikhism is a religion that originated in the northwestern Indian state of Punjab. This religion, unfamiliar to most Chinese, now has over 30 million followers, the fifth largest in the world.
Many of their ideas come from the Hindu belief in Brahman and the Sufis of Islam; and like Islam and Christianity, it is a strictly monotheistic religion. Almost all Sikhs around the world are now of Indian Punjabi descent, so they are sometimes referred to directly as "Sikhs". Some even no longer practice Sikhism, but still retain the same habits, so the concept of Sikhs is gradually approaching that of an ethnic group.
Sikh women dress similarly to other Indian women, often with a sari draped over their heads; Sikh men are easily distinguishable: many of them wear a signature turban cap called a turban at all times, completely covering their hair. For example, Manmohan Singh, the Sikh who seemed to wear a turban cap forever and was India's prime minister for a decade from 2004-2014, is a Sikh.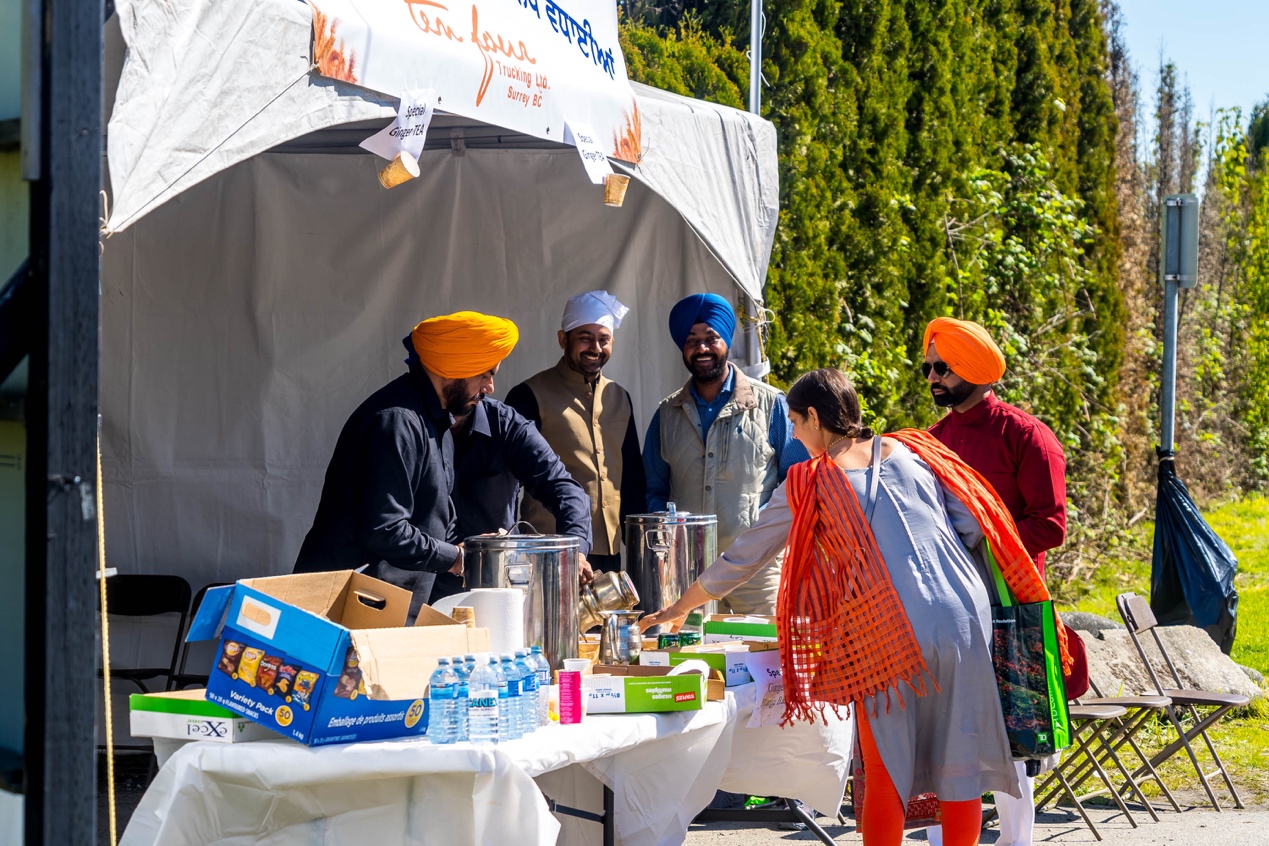 Like many people, my first knowledge of Sikhism and Sikhs came from the legend of "free food in Sikh temples". Hong Kong has the only Sikh temple in China, and it was in that white building halfway up the hill in Wanchai that I had my first "free lunch".
In fact, this tradition has a long history in India, even older than Sikhism itself. The Tang dynasty monk Yijing, who travelled by boat to the Tianzhu (India) to obtain scriptures, once described how Buddhist monasteries in India distributed free food to the people nearby in the 8th century AD. The Sikh religion, which advocates the "equality of all beings", has inherited this tradition of charity in its entirety. Thus, any Sikh temple in the world (also known as the Gurdwara "place of worship", meaning a place to visit the Sikh Guru) offers free vegetarian food to anyone – young or old, male or female, Sikh or non-Sikh. Free vegetarian food is served to anyone, young or old, Sikh or non-Sikh, in unlimited portions, until they are full.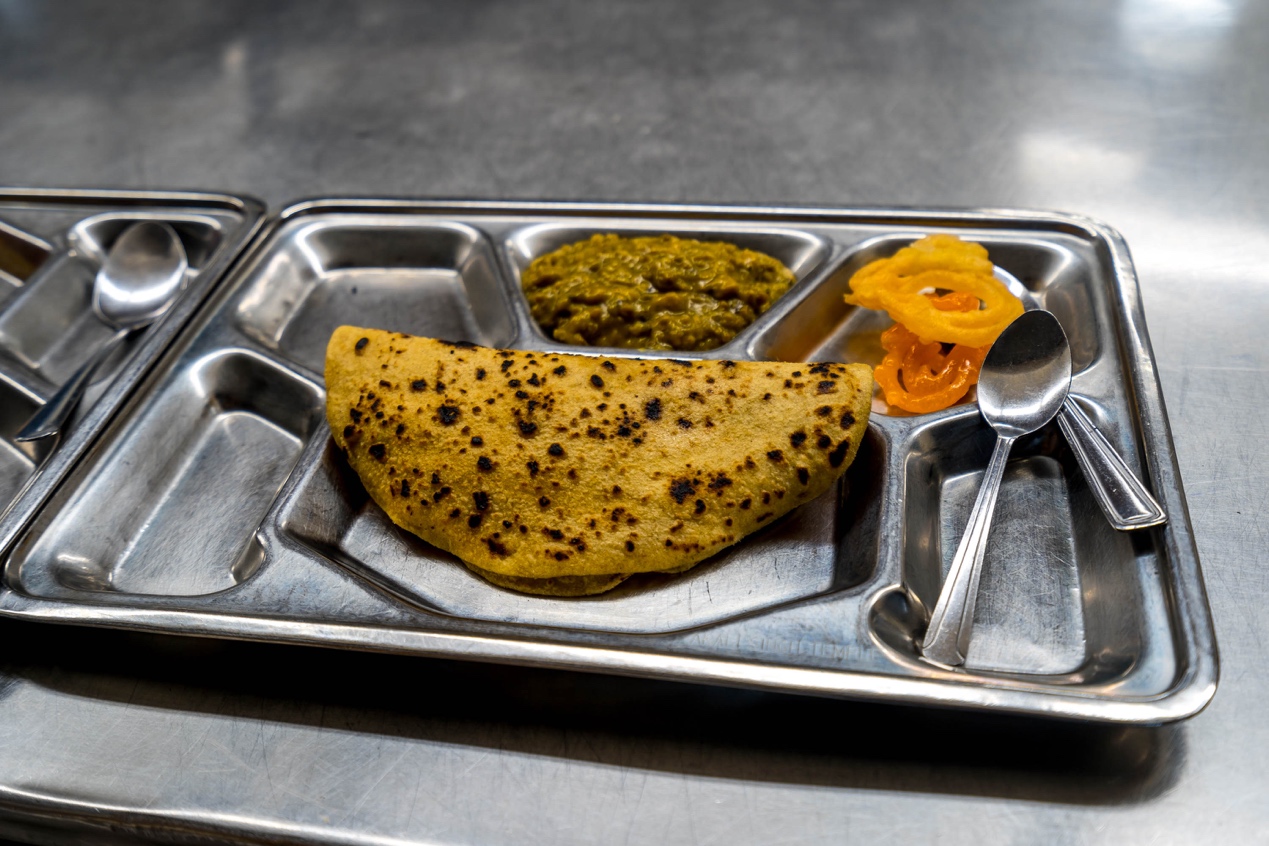 ---
The world's largest Vaisakhi celebration outside India
Of the 30 million Sikhs in the world today, apart from their home state of Punjab, India, the Greater Vancouver area is their most dominant settlement, with over 150,000 Sikhs living in this Canadian seaside city and making Sikhism the second largest religion after Christianity in Vancouver (and in British Columbia as a whole). During my stay in Vancouver, I often met turbaned, bearded, and extremely distinctive Sikh bus drivers – chauffeurs are one of the common occupations of Sikhs in Vancouver. And Vancouver's satellite city, Surrey, also boasts one of the largest Sikh temples in the world outside of India.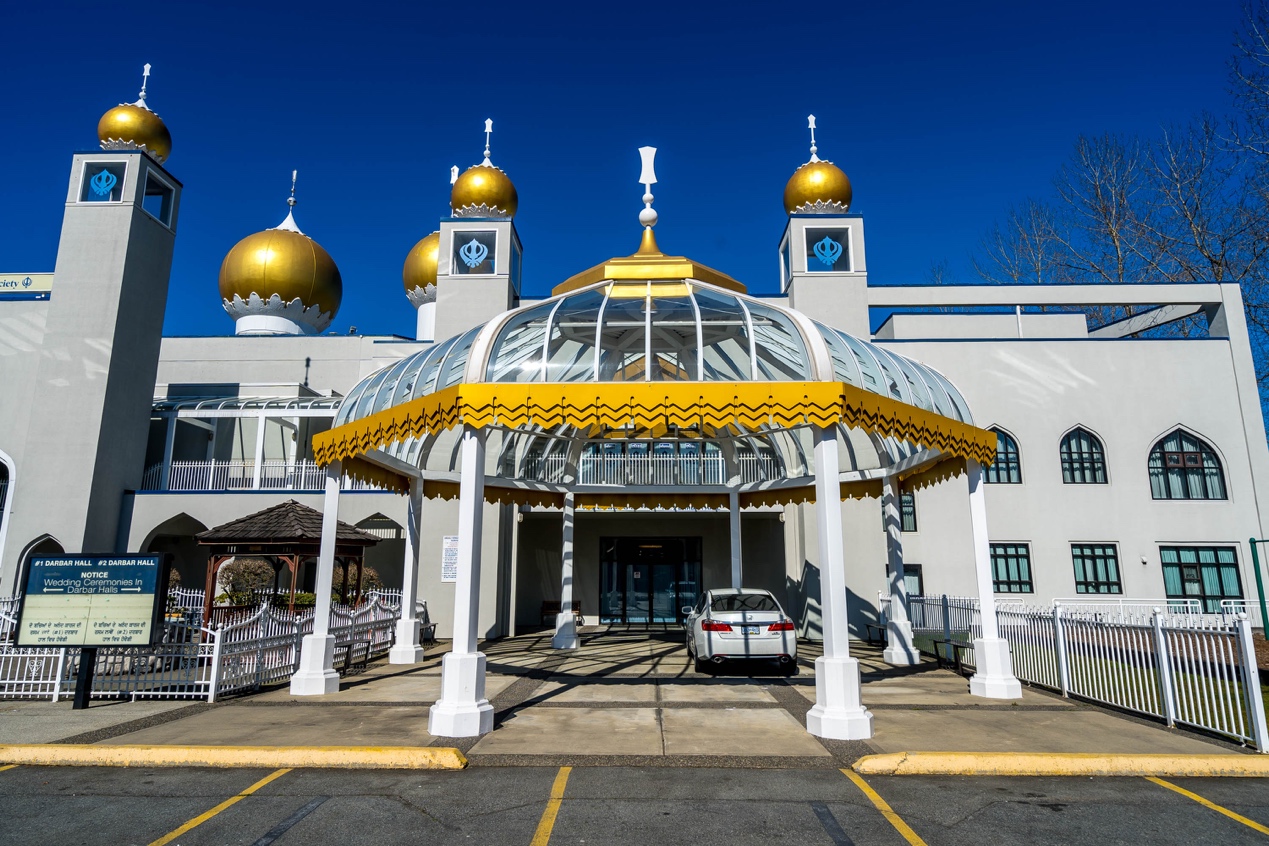 The Vaisakhi (harvest festival), in April of the Gregorian calendar, is a joint Sikh and Hindu celebration of the winter harvest. And in Sikh custom, it is also the beginning of the year, the most solemn festival of the year. Around every harvest festival, Sikhs in Vancouver hold celebrations of all sizes (naturally, the full food and drink remains free). And the one I participated in, held in Surrey, even had the largest number of participants in the world outside of India, and was held on the Saturday of the week of the harvest festival.
It's not often that such a grand event is held for Vancouver residents – after all, even Christmas Day or New Year's Day don't have gatherings of this magnitude. So a month in advance, local media outlets are already scrambling to put out their "Harvest Festival Viewing Tips". The point of the guide is not to teach the audience how to "eat their money back", but to say in the same breath: park as far away as possible.
However, Surrey is already located in the far suburbs of Vancouver, and the festival is held in a community far from the town centre to minimize traffic impact, so driving is pretty much the only way to get there. I dutifully heeded the advice of the guide and parked nearly a kilometre away from the main venue, but was still half-convinced: would there really be that many cars?
That question was quickly answered: just a few steps towards the venue, I saw that the usually mostly empty roadside parking spaces had been filled to the brim, leaving no room for new drivers. Those who had taken a chance and drove here had to turn around and look for other spaces. Further on, even 500 meters away from the main venue, the whole street had started to be completely blocked off and no more vehicles were allowed to pass. And by now the crowds were beginning to converge, with the Sikhs, most of them dressed in ethnic dress, often with their families in tow, a happy sight.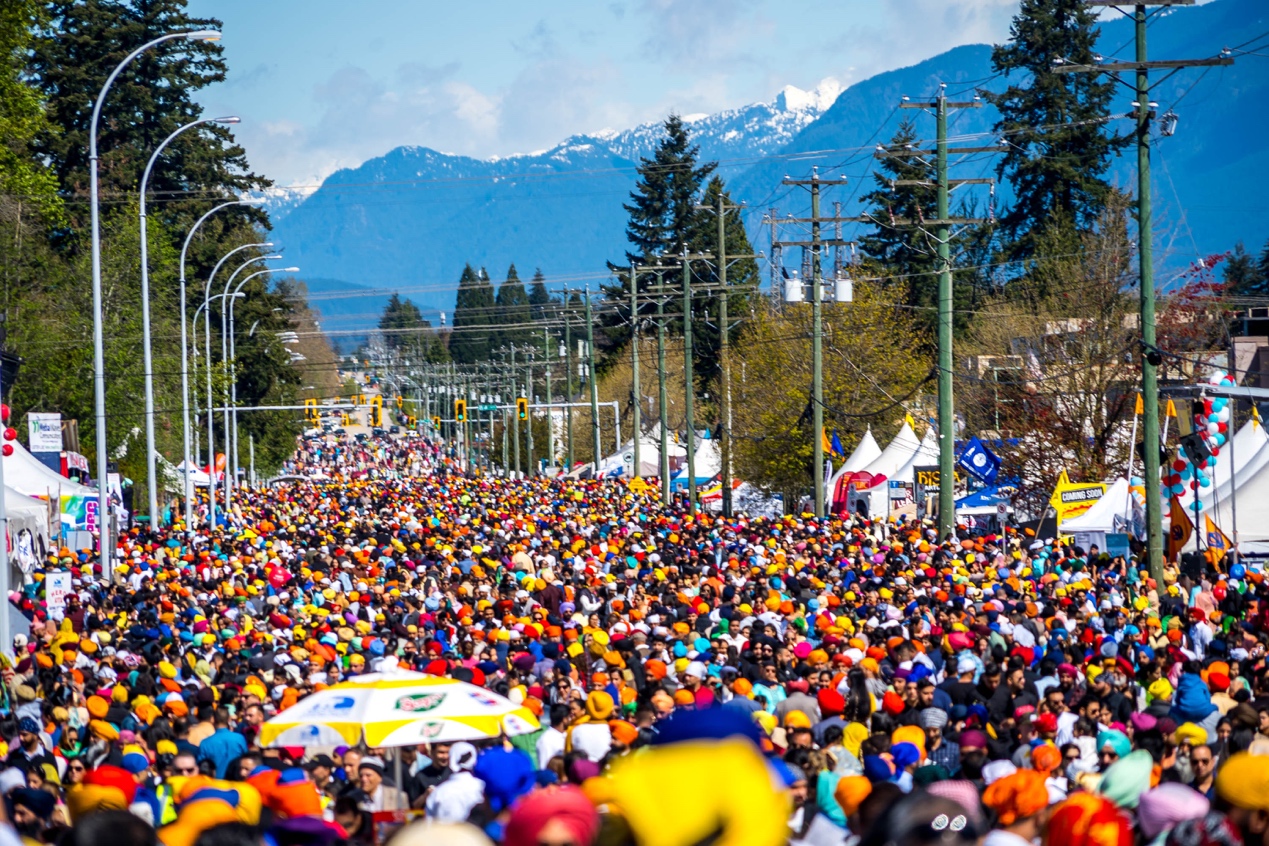 Participants included Sikhs in brightly coloured turban caps/sarongs as well as various other races native to Vancouver. Most of the other male visitors also respected the Sikh custom of wrapping their hair in a sarong or hat. So when you look at the street, it looks like a sea of colourful turbans.
I have never seen such a huge crowd even in the relatively densely populated Europe, let alone Canada. If I had to find a familiar analogy, it would be the temple fairs that I used to attend as a child during the New Year. However, the hustle and bustle of the harvest festival was not even limited to this one street, as the four or five streets that crisscrossed the community were all filled with laughing crowds as far as the eye could see.
The Sikh people's charitable nature was also brought to this grand festival, and if there were only a few free food items available at the Sikh temple, the amount of free food available at this harvest festival celebration could only be described as a small appetite. From Indian curries with scones, to apparently "more Canadian" pizzas, and even Japanese tempura-like fritters, marshmallows made on site, and chocolate chip cookies printed in Chinese …… were all "within reach" of free food. free food at your fingertips".The Sikh people's charitable nature was also brought to this grand festival, and if there were only a few free food items available at the Sikh temple, the amount of free food available at this harvest festival celebration could only be described as a small appetite. From Indian curries with scones, to apparently "more Canadian" pizzas, and even Japanese tempura-like fritters, marshmallows made on site, and chocolate chip cookies printed in Chinese …… were all "within reach" of free food. free food at your fingertips".
The "mash-up" of songs and dances is another feature of the festival. The Sikhs, like other Indians, can sing and dance. There are various makeshift stages interspersed with food and drink stalls, so you can enjoy your meal while having a good time. In addition to the traditional South Asian songs and dances, they also incorporated elements of North American pop music. It's amazing how two very different styles can even be seamlessly combined in the same track.
Behind the pageant, the daily life of North American Sikhs
In theory, the Harvest Festival is not a "temple fair", but more of a "float parade", and they even have a strict route for the parade. It's just that so many people come to "watch" the parade that every year the entire route is blocked, so the floats, which are supposed to keep moving, simply use themselves as static stands and show off their skills.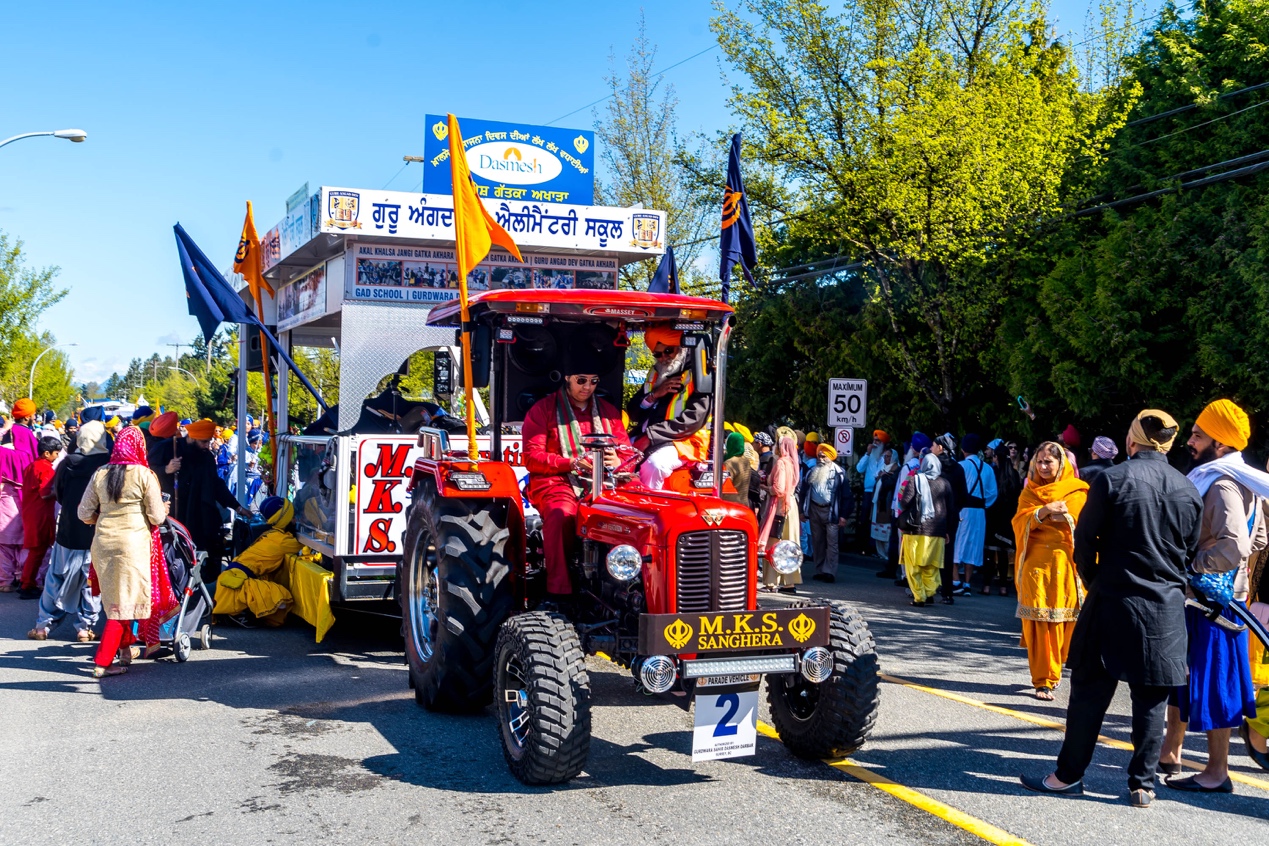 A "heavily decorated" farm tractor walks at the beginning of the procession, presumably to echo the original meaning of the "harvest festival", while the convoy that follows, mostly from various Sikh groups in North America, is often equipped with a loudspeaker in English or Punjabi, in addition to the display boards that cover the body. The caravan that follows is mostly from various Sikh groups in North America, often with loud speakers in English or Punjabi, proclaiming their ideas.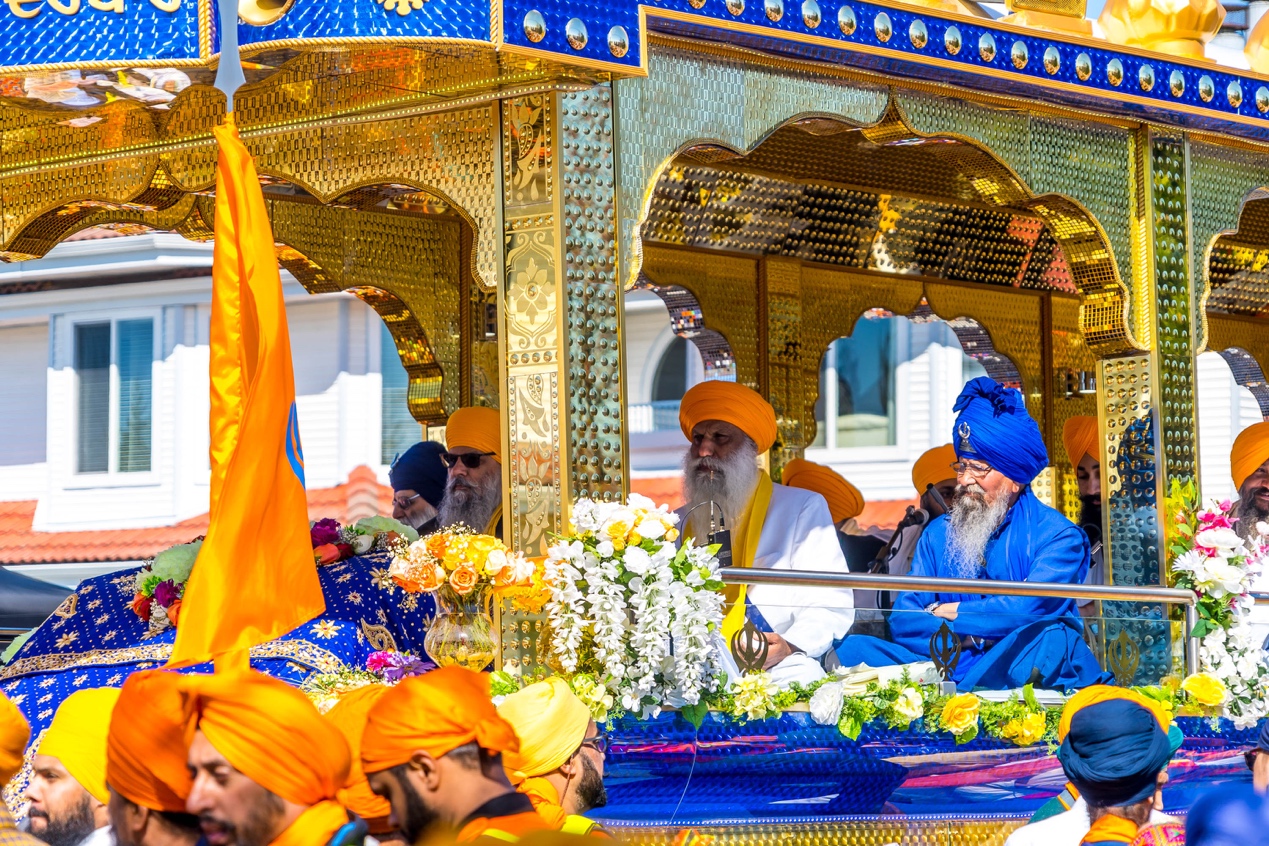 I talked to one of the Sikh brothers next to me, and with his guidance, I understood that the relationship between these groups is not as cordial as it seems to the outsiders. Even the march itself could be considered a "secret battle" between them. According to him, the Sikhs in North America can be divided into two groups: those who still adhere strictly to Sikh traditions and rules, and some of them even secretly support the Indian Sikh "independence" movement; the other group is apparently more integrated into North American society and less conformist, and they are not satisfied with the Indian Sikh "independence" movement. The other faction is apparently more integrated into North American society, and their view of the Indian Sikh "independence" movement is often: none of my business.
Even though relations between the two factions have become more peaceful in recent years, and even as close as they are now to celebrate the harvest festival together, in Big Brother's account, it was far from that. In the 1980s, the strife between the two factions had even gone as far as staging terrorist attacks on each other at the Sikh temple, which shocked me, who had long been used to the togetherness of Vancouver's various ethnic groups.
"So …… which faction are you?"
"Look at this!" He smiled and pointed to the turban wrapped casually around his head, "Men who wear a Siktaben at all times slabbed are generally conservative; while those like me are clearly the other faction. Actually, like you, I don't usually wear a turban, but I'm just following the custom here today."
As I looked around, I could clearly distinguish between the two very different ways of wrapping the turban of the Sikhs around me.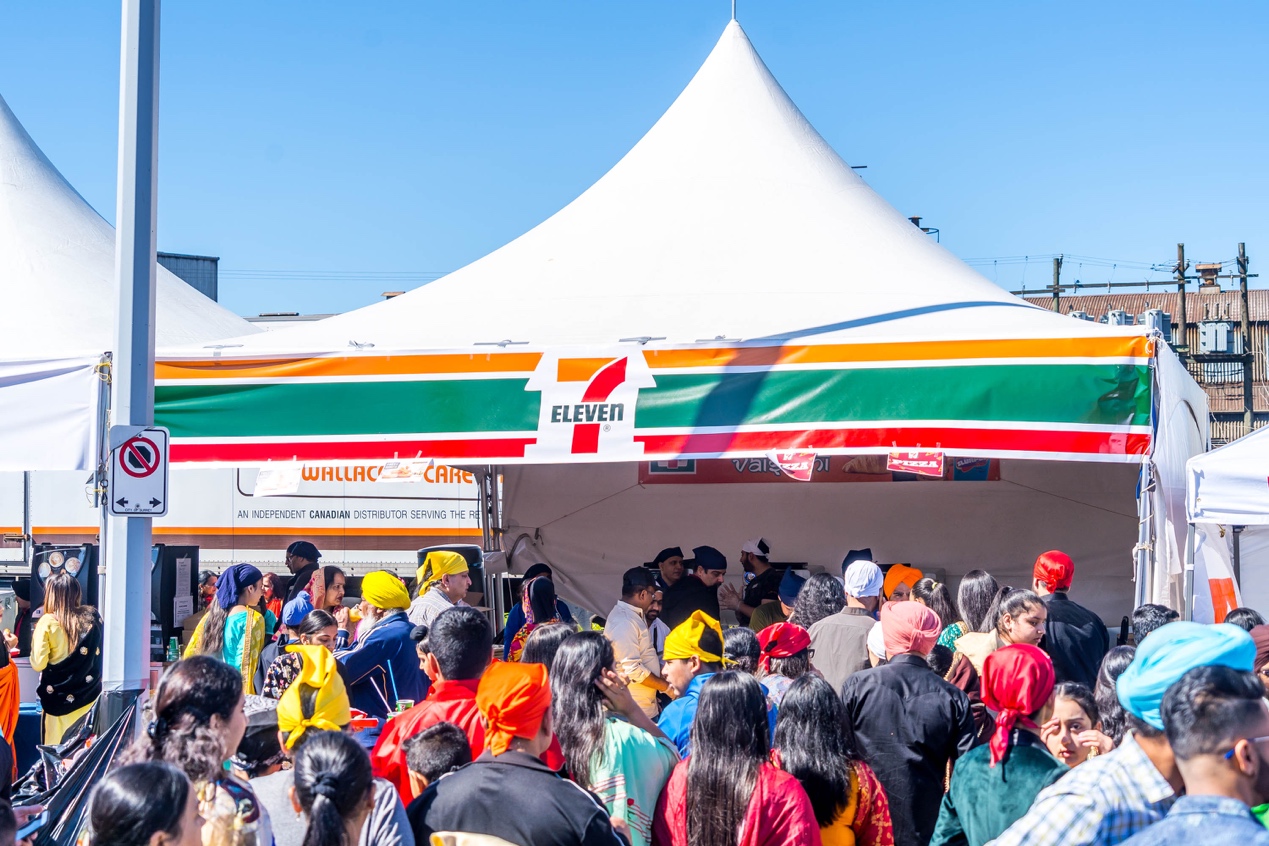 My older brother handed me his business card and invited me to hang out with him sometime. I took his card and realized that he didn't live in Vancouver, or even in Canada, but that he ran a software company in California, USA. He told me that this time he was bringing his wife and children to Vancouver specifically for the Harvest Festival. "I brought my kids once before and they've been clamouring to come every year since." He gestures to me to the lady in Sikh pomp and circumstance in front of the booth across the street, which is obviously his wife. Beside her were four small children happily nibbling on cotton candy. "They're all my kids." He had a proud look on his face.
It seemed that even though he had long since stopped wearing the hijab, some of the other traditions were still subliminally influencing him.
I noticed that his name had "Singh" in it, spelled exactly the same as the former Sikh prime minister of India, "Singh". "So you're the same family?" "No, no, no, no. ……" This Mr. "Singh" couldn't help but laugh and then explained to me seriously, "We Sikh men all have 'Singh' in our names. 'Singh', either as a surname or as a middle name. The word means 'lion' in Punjabi and is sort of a symbol for us Sikhs." He went on to explain that his ancestors were far from a prominent family in India, but were part of a large group of Sikh immigrants who came to Vancouver in the late 19th century to make a living. They later moved to the United States and settled there because of the once Canadian government's policy of excluding Sikhs.
"Our entire family was born in the U.S. As for our home in India, I've only been there twice. To be honest, I don't even speak Punjabi very well." In fact, his standard fluent American English without any Indian accent said it all, "Still, I'm proud to be a Sikh, well, the same way I'm proud to be an American."
With that, he turned his head and looked across the room at his wife and children, who were "immersed" in cotton candy, with a look of love in their eyes.